Spring 2023 #1
We unveiled a 5 year labor of love at Henry Ford Macomb Hospital, a part of Henry Ford Health. 
Through Each Season Monument PIXEL Project: Janet & Jim Riehle North Tower. 
I wish to say thank you in particular to God, my family, the co-creators who helped paint this work, Henry Ford Health, Mrs. Rossman, whose profound love and
leadership for this community continues to inspire me, Christina Lavinio-Mattinen, Natalie Kovacheff, HFH Interior Designer, Bobbi Marvin, HFH Healing Arts Program Manager and the Lindsey Anderson Curator of Art, Megan Winkel, Kimberly Kane, Michelle Fusco, Susan Krempa, the HFMH Patient and Family Advisory Council, Ray Manning and Kaley Pittsley whose stunning photography served as the resource photography that I used in my initial designs, the architect, Pierre Roberson, and the interior designer, Katherine Chapelle, whose expertise embedded Macomb County's dynamic cultural fabric throughout the North Tower, the builders, our partners at Anton Art Center, including Phil Gilchrist and Peggy DiMecurio, Quinn Road Reunion, Blake's Cider Mill, Stony Creek Metropark, Wolcott Mill Metropark, Lake St. Clair Metropark, Shadyside Park, Clinton Township Gratiot Cruise, Sterlingfest, Belle Isle Art Fair, Leadership Macomb, C&G News, WWJ Newsradio 950, Macomb Daily, and the rest of my exceptional team of community partners at Douglas Jones Art & Design.
This PIXEL Project brought together people that represent all backgrounds, skill and experience levels, ages, and primary languages. As Mrs. Rossman describes, "How rich we are as a multitude of cultures." First, community members decided that we would paint landscapes and the seasons, that we would include local favorites and also beautiful landscapes far away from us in Northern Michigan. The natural resources in Macomb County create a unique set of places that connects us as a growing and diverse community through each season. The natural resources in Michigan help to sustain us, and they remind us that our opportunities to visit with wellness and beauty are as diverse and as vibrant as our opportunities to meet with each other. At a series of Creation Sessions, 388 community members helped to paint the HFMH Janet and Jim Riehle North Tower Monument. We created this artwork together, step-by-step, with a shared vision to develop a space that is intentionally inclusive. This art series is painted by the same community that this artwork serves.
Here are some photos by Dallas-based photographer and printmaker, Arno Goetz:
Winter Forest at Stony Creek Metropark, 2020-2023 
55″ x 55″
M-119: The Tunnel of Trees #2, 2020-2023 
Three 48″ x 96″ panels, measuring 96″ x 144″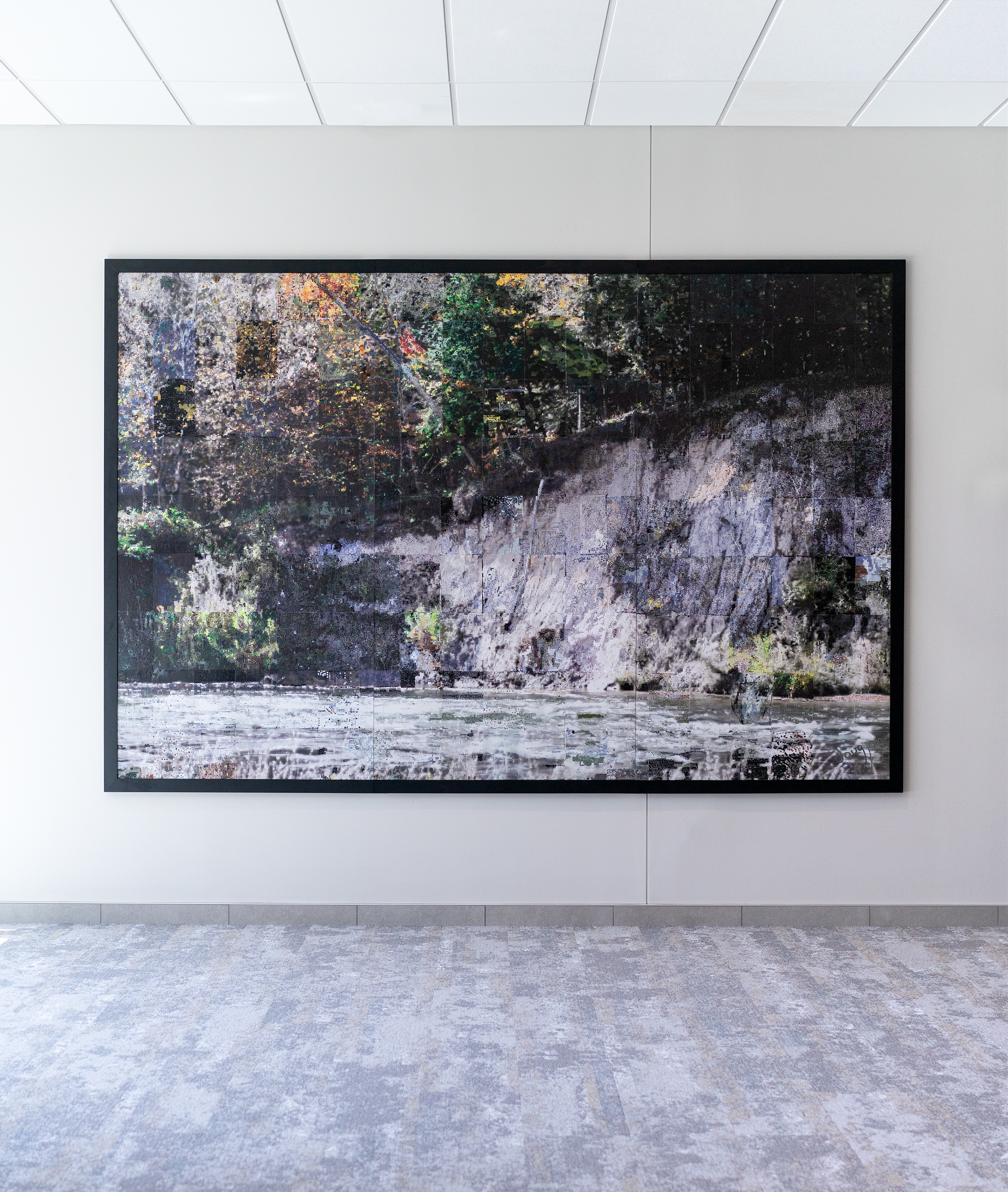 The Manistee River, 2020-2023 
Three 48″ x 96″ panels, measuring 96″ x 144″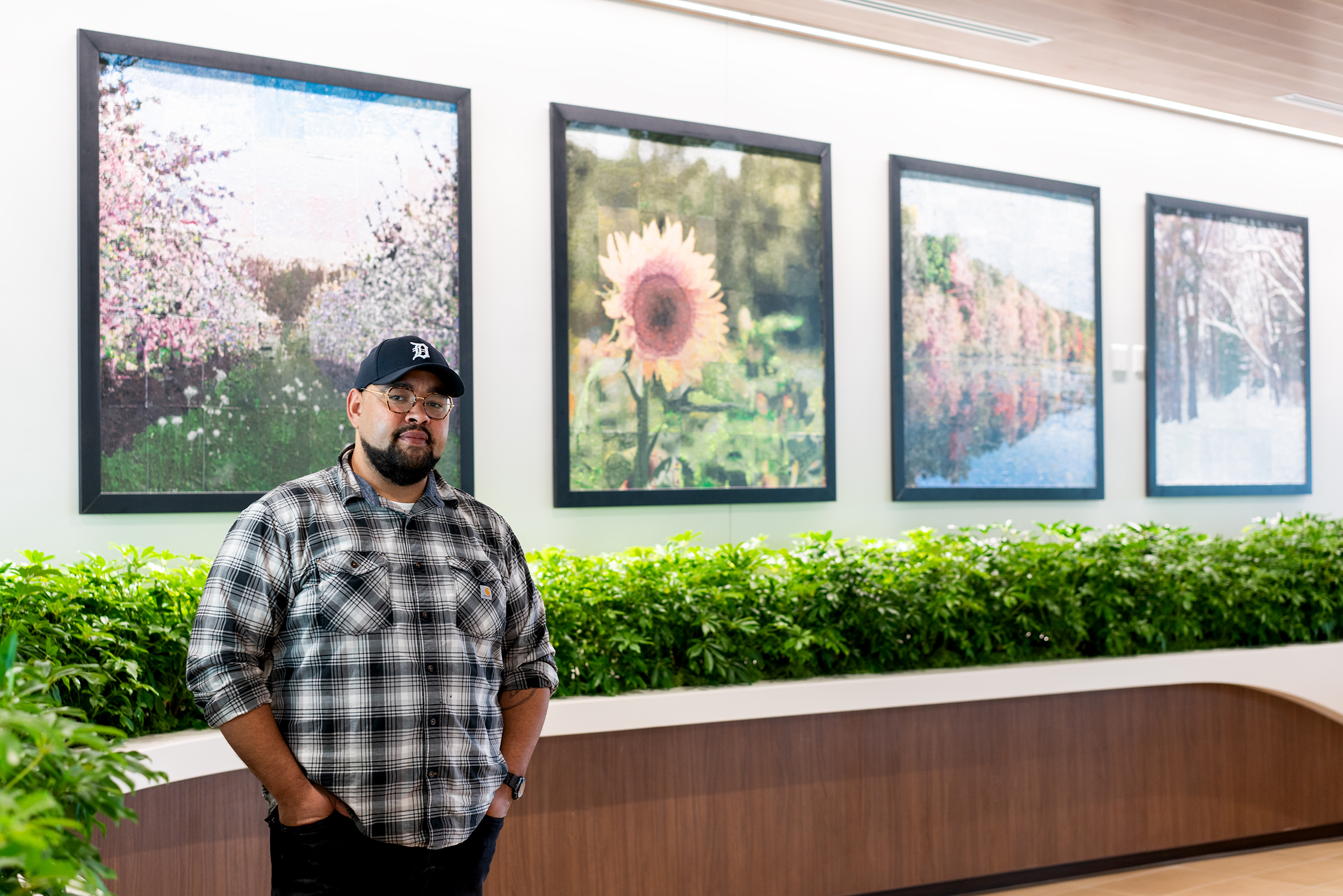 Springtime Apple Orchard Blossoms at Blake's Cider Mill, 2020-2023
Summertime Sunflower Field at Blake's Cider Mill, 2020-2023 
Autumn Lakefront at Stony Creek Metropark, 2020-2023 
Winter Forest at Stony Creek Metropark, 2020-2023 
Each consists of a single 55" x 55″ panel
Fall 2022:
I posted my most recent blog in the spring of 2020. It has been a complicated couple of years since we were ordered to stay home and quarantine due to COVID-19 and its many related concerns. Our shared concerns led to the inclusion of special Creation Kits into my process. We began using these kits at Henry Ford Cancer Institute's Brigitte Harris Cancer Pavillion in Detroit, 2021. We went on to also use Creation Kits for students, staff, and their families as part of the Interconnected: An SLC PIXEL Project at the University of Michigan in Ann Arbor. 
Prior to quarantine, Flint-based artist, Errin Whitaker, and I proposed a unique and innovative approach to public art as part of the Rosa Parks Boulevard Streetscape Project. We proposed garden space/s along this corridor, as a way to begin additional 'green work' in Detroit. Detroit has many vacant lots. Due to historical horizontal development throughout the region, there is a lot of space including spaces left by the recent demolitions of homes and other structures. Leading up to this ongoing project, I drew inspiration from Piet Oudolf and The New Perennial Movement, which suggests among other things, that native plants enable more contemporary approaches to garden design. I saw Oudolf's design drawings and instantly became enthusiastic about how the dots and fragmented shapes that I've integrated into much of my work might also act as a map. Each dot, each shape, each color represents a plant and its growth pattern, in a way I found similar to the Superstroke Movement founded in South Africa and the Superflat Movement founded in Japan. Similarly in my drawings, each dot, each shape, and each color represents something else, something living in the built environment. We plan to unveil this garden, spring 2023. Whitaker developed the initial Ancestor|Posterity Chair, our design innovation which draws inspiration from African playwrights including Nobel Prize for Literature awardee, Wole Soyinka. In our final design, we will add a Corten steel version of our A|P Chair that will live in conversation with the initial wooden chair, reminding us of the link between materiality and the immaterial, the past, the present, and the future, our memories, our experiences, and our hopes for our shared futures. 2020-2021, we met with community members throughout Virginia Park. Virginia Park consists of several neighborhoods. We would like to thank each of the people that met with us, shared our enthusiasm, and helped us to choose plants of varying colors that promote the entire lifecycle of the butterfly, from egg to elder. A shared value within this garden is transformation and healing. Many of the people who helped install the plants planted Purple Coneflowers in memory of someone the person lost due to COVID-19 and its many complications. Insights from community members also led to our inclusion of QR codes, a technology that many elders reported they became acutely aware of during the months following quarantine. 
A month into quarantine, I accepted an invitation to attend Cranbrook Academy of Art in Bloomfield Hills. I was not permitted into my Detroit studio during quarantine and for some time after quarantine. My most direct professors, CAA Artists-in-Residence Emmy Bright and Cooper Holoweski in the Print Media Department, offered me a stronger sense of community in 2020 and beyond, and also the space and freedom to 'get weird' in my exploration of my most personal work. I chose to focus on visual language as it pertains to my most personal forms of self-expression.
As a student, I worked with creatives across CAA's 11 departments that span art, architecture, craft, and design. I am eternally grateful to my peers and to the AIR's that guided my process and development. My thesis focused on the palimpsest, a printing term that explains the past's refusal to disappear as evidenced by its placement within the layers that make up future iterations. Essentially, the palimpsest refers to the past willing itself into the future. I studied the palimpsest, its traces, edges, 'edge-lessness,' blurs, traditions, and the technologies often used to bring these 'traces' to life. I explored the way we project meaning onto shapes, objects, color, and form  and practiced across media. I created my first film, as well as my first Chinese woodblock and intaglio prints. I learned so much more about screenprinting and drawing from Bright. I learned so much more about etching and world building from Holoweski. I practiced painting and sculpture, digital media and 'analog' media.
I spent my second year with my studio in the beautiful Architecture Department. Gretchen Wilkins, Architect-in-Residence, so graciously invited me into that space, where I learned so much more about architecture. This is where I first developed my 'palimpsestic mind maps' in concert with my lessons in the Print Media Department. I converted my large-scale drawings into tapestries when I learned that the loom led to the computer (James Essinger's Jacquard's Web: How the Hand Loom Led to the Birth of the Information Age), and that visual language is a critical element in data science and architecture, and our individual and collective formation of information/misinformation (Richard Saul Wurman's Information Anxiety). I inverted the tapestries and stacked them once I learned more about the epigenetic nature of design principles (Robert Farris Thompson's Flash of the Spirit). My thesis work hanged at the Cranbrook Art Museum and featured 2 large-scale tapestries/hangings/weavings.
I was grateful to represent CAA at Anderson Ranch Arts Center outside of Aspen (Snowmass, CO) and at Arrowmont School of Arts and Crafts (Gatlinburg, TN), where I learned more about new printing techniques and monotypes, pochoir, and methods in using charcoal, yupo, and graphite from San Francisco-based artist and printmaker, Susan Belau, Head of the Painting and Print Studios at Anderson Ranch, Elizabeth Ferrill, and artist and University of Alabama professor, Gary Chapman, respectively. 
December, 2021, Henry Ford Macomb Hospital CEO, Barbara Rossman, commissioned my first monument using my PIXEL Technique. This project builds upon similar work within the Macomb community and will ultimately feature the inclusion of hundreds of co-creators to develop a series of large-scale, expansive landscapes housed at HFMH's new Patient Tower. 
August, 2022: I completed a series of murals that feature students for a special after school program, the Shop Rat Foundation.
September, 2022: I joined with artist and curator, Nick Pizana, to present a curated project, Deep|Space, at the MdW Assembly at Mana Contemporary in Chicago. This stems from Pizana and my own approaches to narrative world-building.  
October, 2022, I became the Interfaith Volunteer and Care Giver's first Artist-in-Residence, which will bring my social practice to New Haven, CT in 2023!
October 21, 2022, we unveiled my second project at the University of Michigan, Interconnected: An SLC PIXEL Project. What we initially envisioned as a 5 week project, grew with the COVID-19 pandemic into a 2.5 year project. Listening to students led to the culturally transformative Critical Resources Document. I am so grateful to SLC Director, Joe Salvatore, SLC Business Manager, Barbara Oliver, College of LSA communications project manager, Karly Gibson, interior design Director, Lynne Friman, Project Storyteller, Public Health grad student, Felicia Zhang, and the 75 students and staff that contributed to this project. I am also grateful to UM Provost, Dr. Tabbye Chavous, the keynote speaker and panelist at the unveiling ceremony. Together, we made the SLC a much more welcoming environment. 
October 2022, Arrowmont School of Arts and Crafts invited me to teach a painting and printmaking workshop, October, 2023! I will share more on this, soon!
COVID 19 Message, Spring 2020:
Covid-19 continues to impact my community and the people I love. First, I want to wish my condolences to those friends who have lost people they hold most dear.
I appreciate our first responders and those on the 'frontlines' of the pandemic. Every time I pick up a device and log-in to anything, I seem to hear more devastating news. Still, I also get to see hope. People get better from Covid-19, too, and I'm grateful I also get to see that. 
I have a few announcements coming soon. In the meantime, I am grateful that University of Michigan Library developed this online exhibit to present some of our work to our communities during the stay at home orders. Enjoy, and please send your feedback to douglasjonesartdesign@gmail.com. 
Spring 2022:
I took the last 2 years following the onset of COVID-19 related precautions to earn my Master of Fine Art degree at Cranbrook Academy of Art in Bloomfield Hills, Michigan. I studied with Emmy Bright and Cooper Holoweski in the Print Media Department, and I elected with Dr. Gretchen Wilkins in the Architecture Department. My thesis is titled, "Palimpsest as a Pathway." I began constructing large-scale drawings and used the computer's predecessor, the jacquard loom, to develop my palimpsestic mind maps into large-scale weavings. Below is an example from my work at the Graduate Degree Exhibition at Cranbrook Art Museum. The GDE closed, last Sunday, May 15, 2022.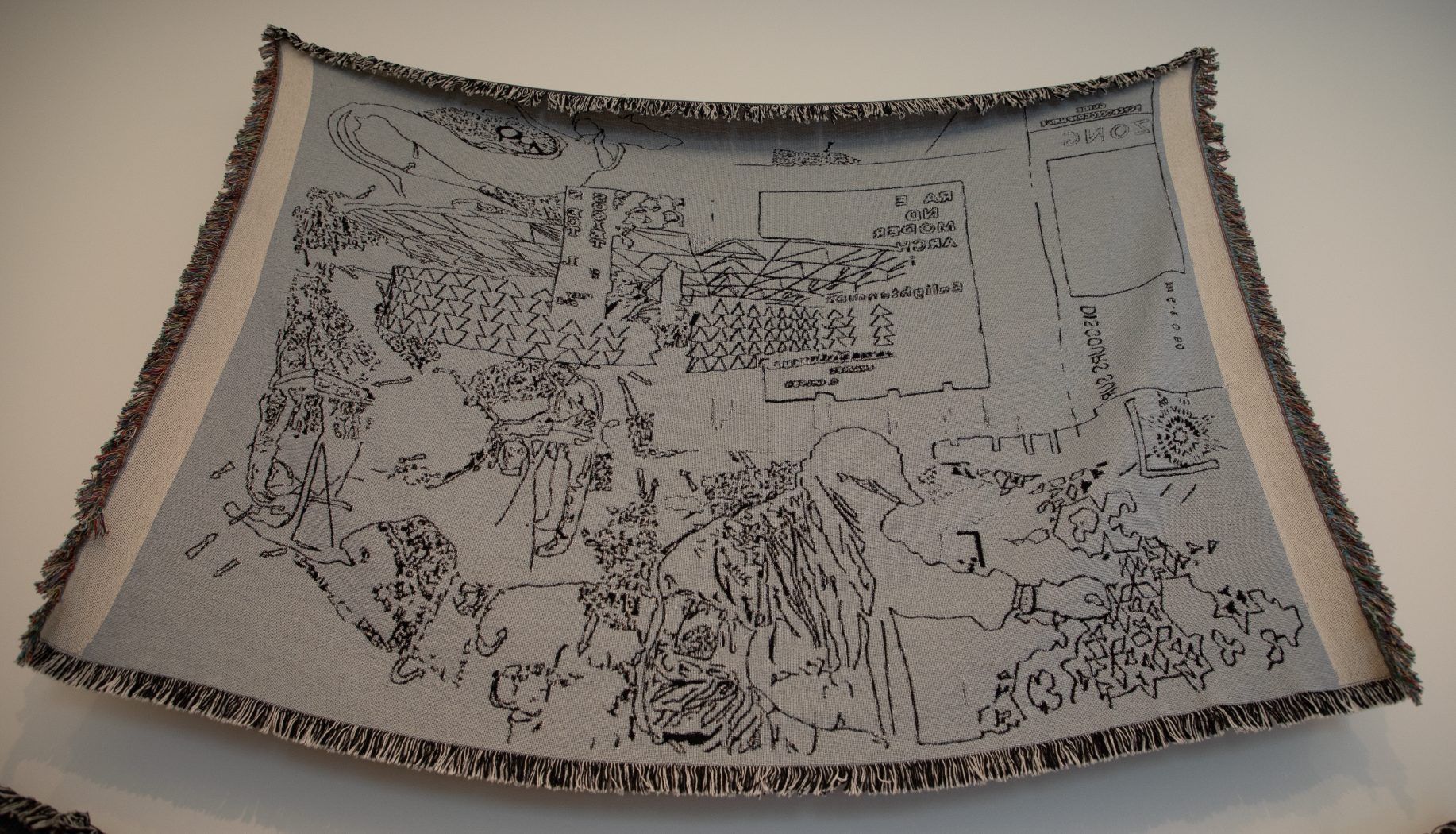 Drexciya Weaving I: Drexciya Veil Gallagher Ellen Biggers Sanford the Bronx Ocean Spray Embedded Code Switch Quilts Patterns Deep Sea Mermaids and Merbabies Others Black White Techno Maroon Disney History Aquatint Fuzz Mezzotint (Doubly Inverted Linocut) Stylee 2022 Kéré Diébédo Francis Water-Activated Serpentine Pritzker Prize Press Blanket, 2022
Fall 2021:
Errin and I began installing the Ancestor | Posterity Native Plant Butterfly Garden with community members.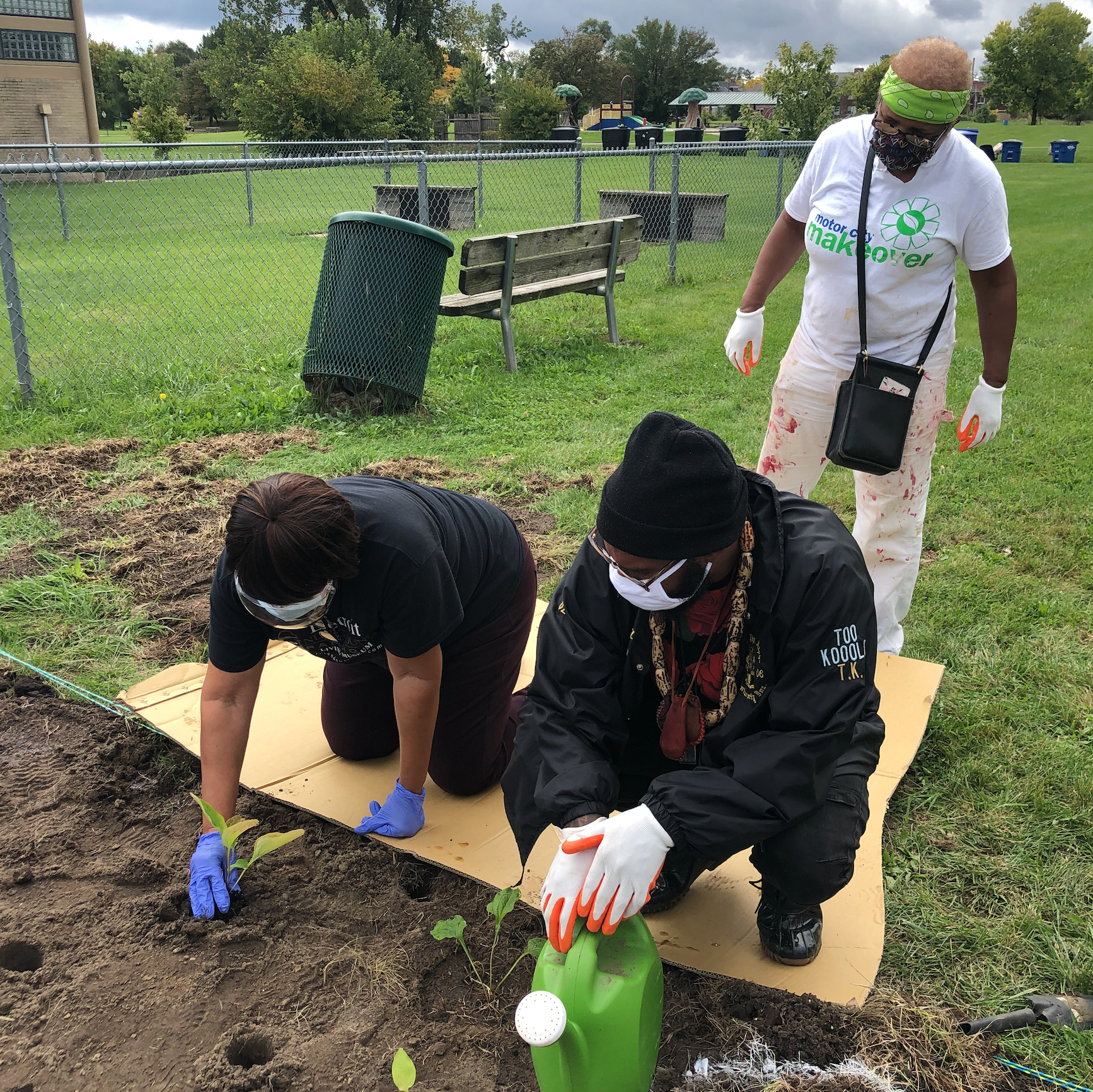 I also began by 2nd Year in the Print Media Department at Cranbrook Academy of Art. I elected in the Architecture Department. Dr. Gretchen Wilkins invited me to house my 2nd Year studio in Architecture. I am continuing my research into the palimpsest as a pathway, mind maps, architecture, and contemporary art perspectives. The photos below are from a special workshop that brought together the Print Media Department and the 3D Department to learn from Ox Bow's Shannon Stratton, September 2021.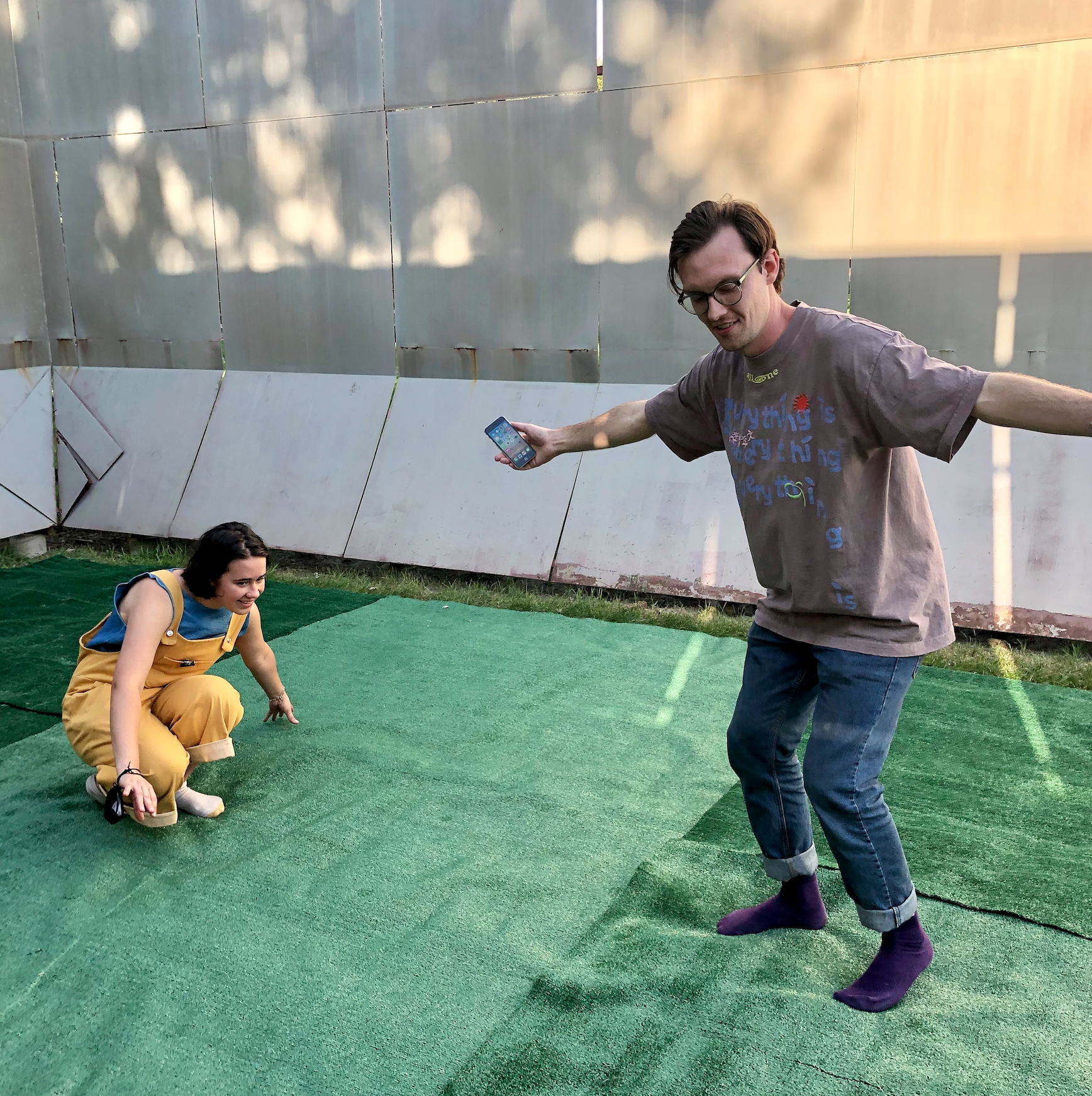 Work continues with the University of Michigan Science Learning Center's science community. Students and staff helped determine central images. We talked about re-designs in the space itself, and then we began painting 🙂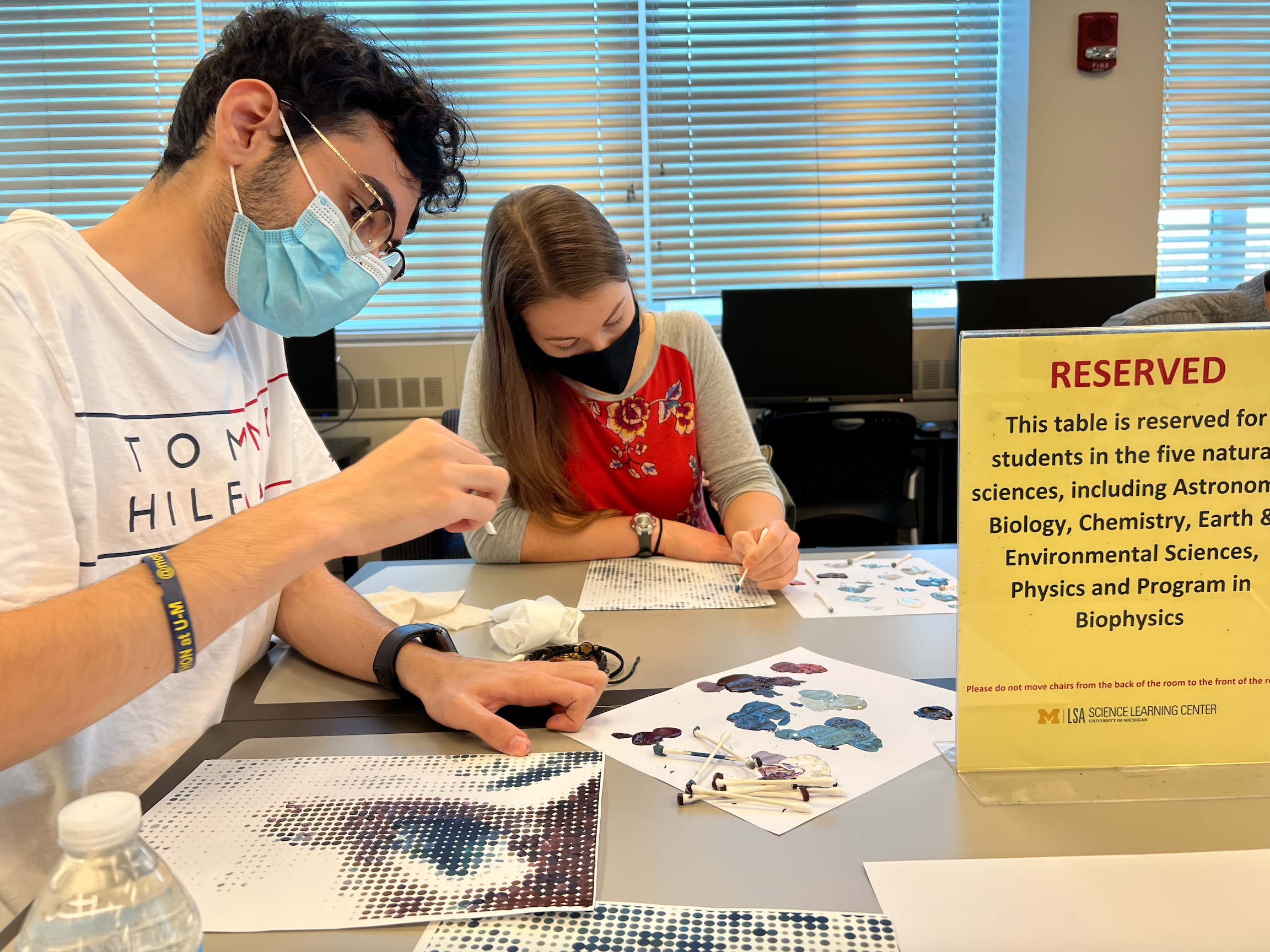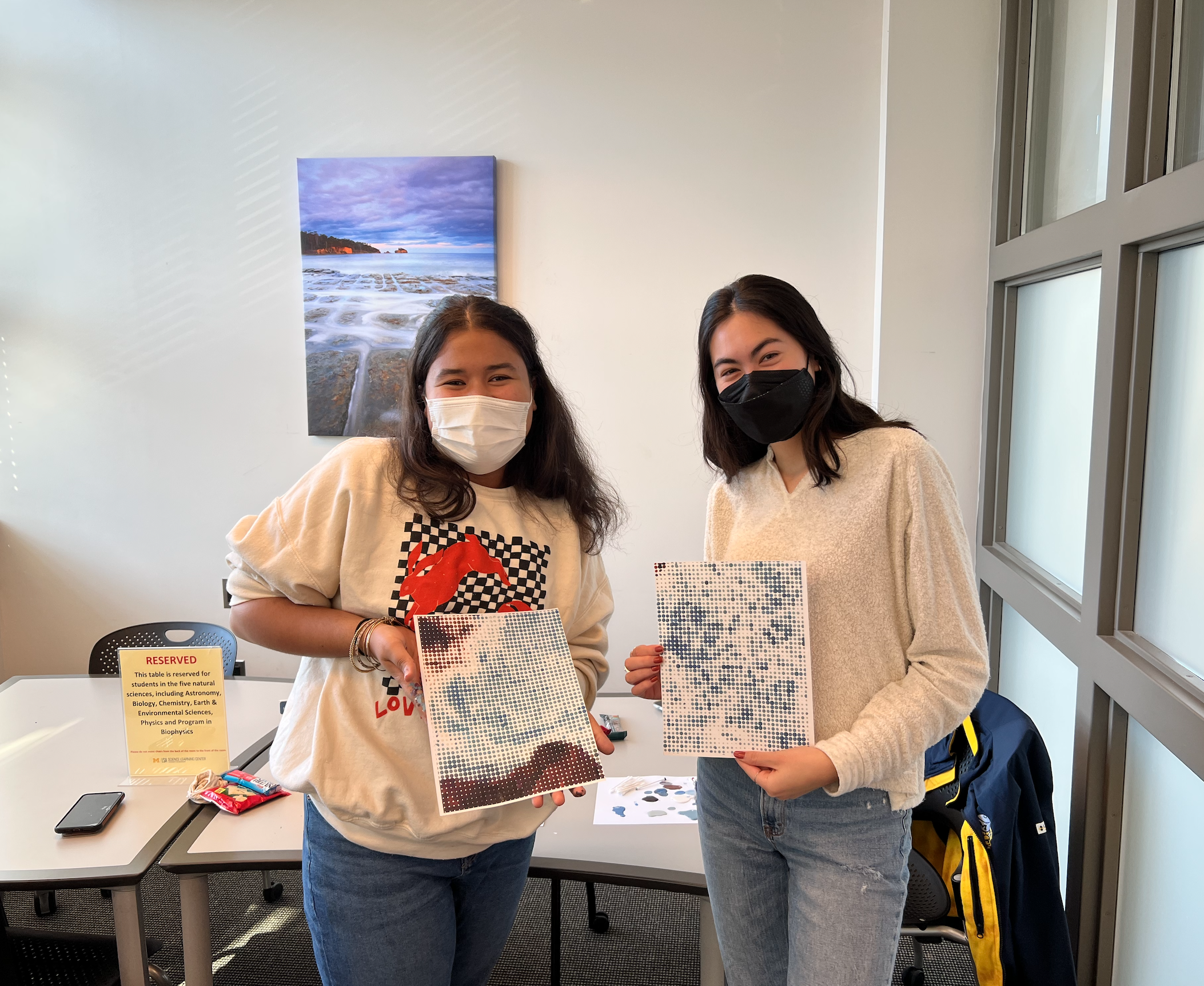 Summer 2021:
Errin and I joined so many wonderful conversations with community members at La Salle Gardens (Detroit), partners, and a wonderful team of horticulturists throughout Michigan and Connecticut as part of the Ancestor | Posterity Native Plant Butterfly Garden. Errin debuted his design for the first Ancestor | Posterity Chair at Irwin Gallery in Detroit. We also debuted the garden design that I painted, and collaborated with painter, Cydney Camp, to promote green work in Detroit. 
I visited Anderson Ranch Arts Center to Snowmass, CO, a town outside of Aspen, on Crabrook Academy of Art's behalf as my first residency. I studied with San Francisco-based Susan Belau, learning and practicing new etching techniques.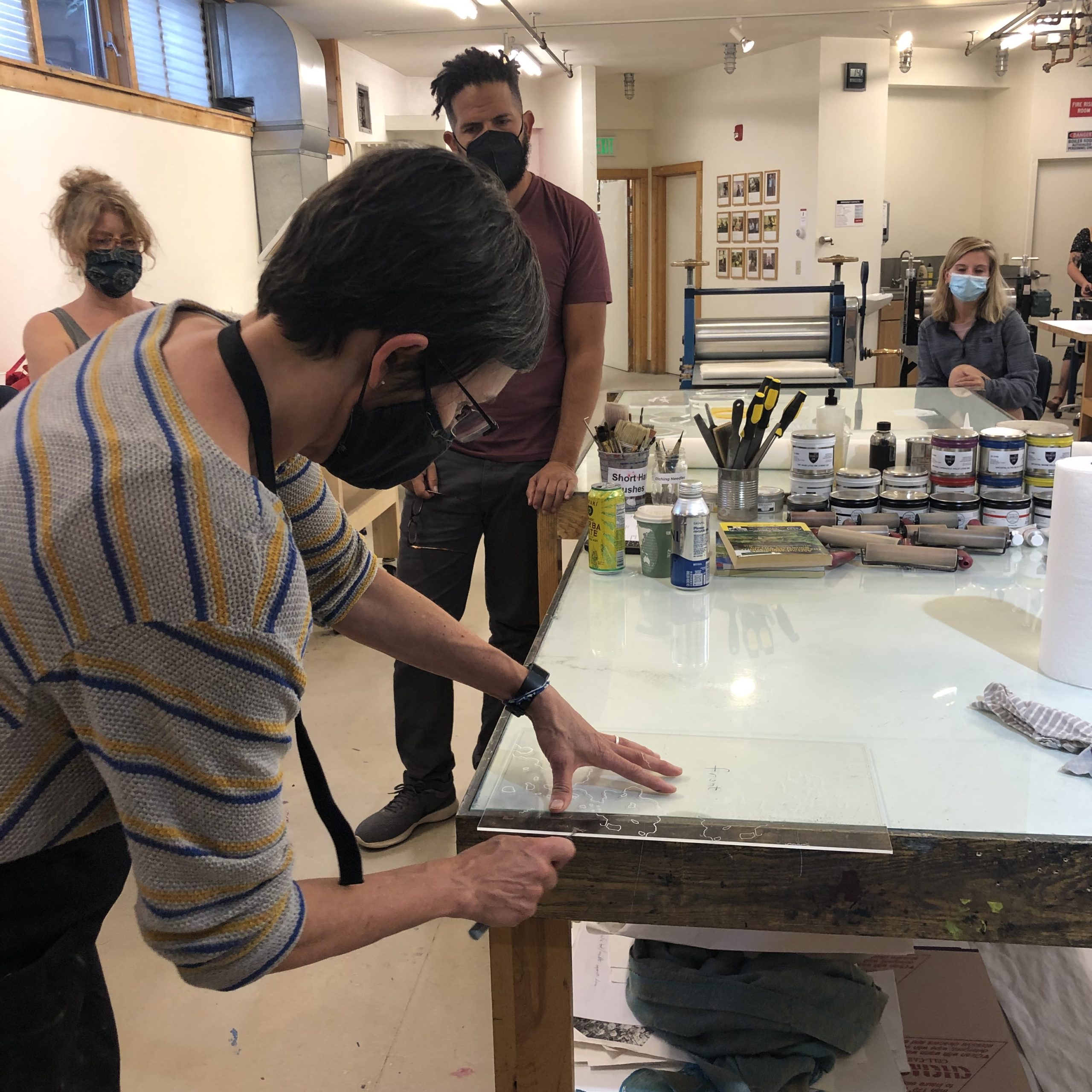 Fall 2020:
Much of my social practice is focused on reflecting sentiments from the communities I serve. Cranbrook Academy of Art offered me an in-person learning community during such a difficult time. CAA also provided me an opportunity to continue a monastic studio practice and to learn richer ways to apply myself to work that is personal to me in different, often less accessible ways than the majority of my public work.
New York City-based performance artist commissioned me to design and collaborate on Volume 3 of her JJ Sunrise Sunset series, on Cranbrook Academy of Art's behalf with financial support by the Applebaum family. 
As part of their Speculative Histories exhibit, Metals Department Artist-in-Residence, Iris Eichenberg, and Cranbrook Center for Collections and Research Curator, Kevin Adkisson, gave me the honor to install work at Eliel Saarinen's desk. Jousten, Double-Consciousness, and the Veil placed W.E.B. DuBois' The Souls of Black Folk in conversation with George G. Booth's The Pleasures of Planting and Other Thoughts, a series of objects including drafting supplies and Eliel Saarinen's silver Tea Urn prototype, and imagery that I created to conjure topics related to Finland. Eichenberg and Adkisson requested that the work remain installed at the Saarinen House a year and a half past when the overall exhibit came down.  
Photo by Iris Eichenberg, 2020
Spring 2020:
4 days before the state-mandated quarantine, University of Michigan Science Learning Center, as a primary creative hub for the science community at the University of Michigan, commissioned a series of paintings that we expected might take 1 month to complete. We now plan for an August 2022 installation, following 29 months of wonderful, enriched work that I'll explain later in greater detail. 
Once the state-mandated took effect, projects throughout the country were canceled or indefinitely delayed. 
2 months into the state-mandated quarantine, the City of Detroit and Design Core Detroit commissioned my first co-creative and prosocial public garden design. I partnered with Flint-based artist, Errin Whitaker, to conceptually introduce the Ancestor | Posterity Chair. Various cultures throughout the world install special seats/chairs in garden spaces as a physical, symbolic place for our ancestors to find a place to rest in a beautiful environment amongst us. Drawing influence from Wole Soyinka, Errin and I introduced the Ancestor | Posterity Chair as a physical, symbolic place for our ancestors and our posterity (those generations of people we will never meet) to find a place to rest in a beautiful environment amongst us. I began designing the garden heavily inspired and influenced by the New Perennial Movement and specifically, Piet Oudolf's approach to landscape architecture. A major feature beyond co-creation became our ability to socially distance during installation. The project impacted the community in many ways, but I'm grateful that the project was flexible enough to allow outdoor community Discovery Sessions, Zoom community meetings, phone calls, and socially-distanced co-creation exercises that we could physically do together. 
Serendipitously, there were 2 major public garden projects in Detroit, 2020-2022. 2021, Errin, the Virginia Park community, and I began the installation of the Ancestor | Posterity Native Plant Butterfly Garden just behind the 12th Street Memorial Pavilion Garden, between the Joseph Walker Williams Center and the Virginia Park Community Plaza Shopping Center, along Rosa Parks Boulevard, also more historically called 12th Street, just down Rosa Parks Boulevard/12th Street from Gordon Park in Detroit.  Teams also began installing Piet Oudolf's latest public garden on Belle Isle in Detroit. 
2 days after the City of Detroit and Design Core Detroit commissioned the Ancestor | Posterity Native Plant Butterfly Garden, Cranbrook Academy of Art recruited me to attend. The Saarinen – Swanson family made me a Saarinen Family Scholar. 
Winter 2020:
MIDDLE CHILD | 'Visions of Detroit,' with Detroit Fine Arts Breakfast Club | Currently on view at Charles H. Wright Museum of African American History:
Winter 2019:
'We Hold the Community's Lives in Our Hands Centennial Project'
Artist Statement: "As a freshman in college, Artist Doug Jones became very ill and had to spend one week in the Intensive Care unit at Allegiance Health, now Henry Ford Allegiance Health. That experience left a profound impression on him, he says, "I learned how quickly and painfully I could lose my life, even as a healthy 18 year old. I learned to trust the team working to save me, and I learned not to be afraid or anxious. My life was not in my hands.
The central pair of hands in this series of paintings symbolizes health care professionals privileged with caring for our patients with strength and grace. Water cupped in these hands represents The preciousness of life. The surrounding handprints, collected from community members of all ages, represent diversity, collaboration, and connection. The handprints reflect our tightly integrated community of patients and caregivers and are cast in the colors of water (life), and include Henry Ford Health System blues, Allegiance Health greens, and a Foote Hospital teal.
It is the artist's hope that these pieces will bring patients and their families a greater sense of security and peace, and that staff will feel a renewed sense of commitment to the care of our patients."
The first set of hands features Georgia Fojtasek. Her extraordinary vision makes this project, and most others at HFAH, possible.
This series includes many people: Hundreds of people representing people of all ages, primary languages, skill and experience levels, ages, and locations, Joey, Pete, Mike, CJ, Jazz, Lilly, Ryan, Chad, Ben, President Lassiter III, Barbara, Sigrid, my former colleague when I worked in clinical psychology, Dr. Abedi, Dr. Ambani, Dr. Dass, Theresa, and a number of other gracious models for these central images.
I was born at Foote Hospital. I spent a week in ICU there during my first year of college. Foote Hospital later became Allegiance Hospital and is now Henry Ford Allegiance Hospital after ultimately merging with Henry Ford Health System. The long-time CEO, Georgia Fojtasek, had an idea after a conversation she had with an administrator in Benton Harbor. It became clear to her that the hospital is vital to the community it serves and she kept coming back to the phrase, "We Hold the Community's Lives in Our Hands."
She asked if the phrase conjured any design ideas. 
I can't think of anything more seemingly and concurrently simple and complicated than a pair of hands working together to cup water. For the project, the hands represent collaboration and integration. The water represents life. Henry Ford Allegiance Hospital commissioned 17 large-scale works featuring similar central images. I worked with 2 dozen ethnically-diverse staff members to produce central images that symbolize Henry Ford Health System's commitment to diversity and inclusion.  
Throughout the year, I also worked with hundreds of local and regional community members to collect painted handprints in 4 branded colors reflecting the first 100 years of Henry Ford Allegiance Hospital (Foote Hospital teal, Allegiance light and dark greens, and Ford Motor Company's Innovation Blue). I also developed a custom color for the project that I call, 'Life Water Blue.' The handprints symbolize our community, the health system's background in humanization, and the immense responsibility of caregivers. As Henry Ford Health System President Dwight Lassiter explained to me when he laid his own handprints on the project (January 3, 2019), health care requires unparalleled integration and collaboration. 
It became quite the blessing that my sister gave birth to my youngest nephew at that same hospital over the course of the project. My family gifted an additional large-scale work to Labor & Delivery featuring the hands of one of her nurses. There were 3 other unanticipated blessings along the way. My mom participated during one of her appointments at the hospital. Fojtasek's oldest cat, Munchkin, laid his paw print shortly before he passed away. The Leadership Team surprised Fojtasek at her last Leadership Team meeting as CEO with a specially commissioned, smaller-scale work drawn from the same series. 
The works are located at 19 locations:
Summer 2019:
Currently, I'm working on 19 works for Henry Ford Allegiance Health System and 10 works for University of Michigan-Ann Arbor. Our team also recently installed 'Everyone Loves Somewhere' at 4 locations as part of this year's Detroit Design 139 Biennial. For more information on DD 139, click this link. Briefly, it is part of this year's Detroit Month of Design (September 2019). 
I'll soon post more information about these projects on this page. 
I'll also tell you more about my community work and recent projects, including '14,000 dots,' painted at 427 W. 7 Mile (East of Woodward) for ChaldeanTown/North Town (Detroit) and the PGA (Rocket Mortgage Classic).
Let's start there.
14,000 dots (aka Detroit.Gradient/Detroit Dot Gradient)
The City of Detroit, State of Michigan, Quicken Loans Community Fund, Quicken Loans, the PGA, and Groundswell commissioned me to paint 14,000 dots.
Community members of all ages, backgrounds, primary languages, skill and experience levels used a special 'take-away' stencil I designed to help me paint 2 separate gradients (blue to yellow and yellow to red, the colors of the Detroit City Flag and the Chaldean Flag) in 14,000 dots (427 W. 7 Mile, Detroit).